All the adventure is topped off with a delicious traditional lunch in the Costa Rican rainforest – 2000 feet above sea level!
Enjoy the chance to see exotic Costa Rican wildlife. Soar through the canopy like a bird. Get a little off-road, and get a little rainforest on ya. Splash around in one of Costa Rica's many beautiful waterfalls. Enjoy a delicious and authentic Costa Rican meal in one of the country's most exotic and serene locations.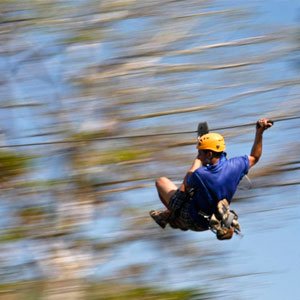 Picking up at 7:30am, you are first off to the Los Suenos Canopy Tour where you will slide down 10 breathtaking zip lines. The second to last cable is the longest in the area at 2400 feet – you will zip almost ½ mile! After the tour, you will stop by the canopy office to enjoy a little pineapple and watermelon, as well as a chance to pick up a disk of photos of your tour.
By 11:30am you will have your motorcycle helmet on and learning the in's and out's of riding your own ATV up in to the rainforest – Mules/Rhinos & tandem ATVs also available for the faint of heart. Within minutes you will be in the secondary rainforest on your way to an amazing Costa Rican waterfall.