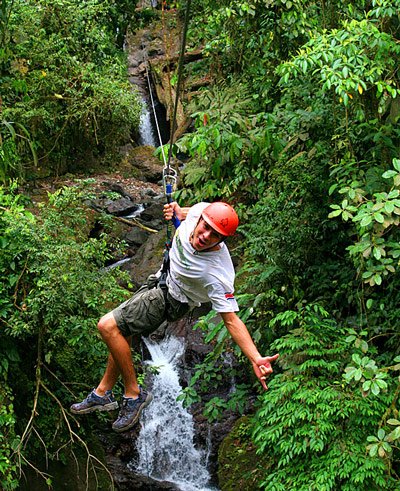 Our 10 in 1 Canyoning and Rappelling Adventure starts with a truck ride down the barrel of the beautiful Tulín River. Unspoiled, natural beauty surrounds you as you dive deep into the Costa Rica Rainforest, leaving civilization behind.
Upon arriving at the next stage of your journey, your group will hike across Ferrata Hanging Bridges suspended amid the Rainforest canopy. With panoramic jungle views at every turn, the iron rod bridges of San Antonio de Damas will leave you speechless.
The next stage of the 10 in 1 Canyoning and Rappelling Adventure comes to you via Tarzan Swing. Guests harness up for a free-fall jump that is the ultimate adrenaline rush. Get in touch with your wild side as you fly through the air amid towering trees and spectacular views.